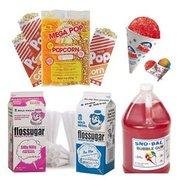 50 Extra Servings For Concessions
NEED MORE SERVINGS FOR YOUR GUEST? NO WORRIES WE GOT YOU!
Whether you need extra servings for you Popcorn machine, Snow cone machine or cotton candy machine we have you covered. by adding this to your order you will recieve 50 servings for 1 of the machines of your choosing. if you need more servings feel free add a few more to your cart. if you need extra servings for multiple machines. please specify which machines you would like extra servings for under customer commnents.